1. Can I put Boar Wheels as a direct replacement for my 16" trailer tire/wheels?
Yes. If your trailer has the 8 on 6.5" or the 6 on 5.5" lug pattern and is lug-centric (conical seat lug nuts) with ½" or 9/16" lug studs, then the Boar Rancher single wheel or the Cruiser 67 Aluminum wheel will be a direct bolt-on replacement. With 5/8" lug studs, the Rancher 673T or the Cruiser 67 & Muret 75 will be the best hub centric (centers on the center bore) replacement option for you. If your trailer has 16" dual wheels with an 8 on 6.5" lug pattern, hub centric, and you're currently running 235/85R16s, then the Hooper Dual wheel will be a perfect direct bolt-on replacement. You can always call us with your trailer specifications (axle size, GVWR, current tires size & stud size) and we can help you determine the correct application.
2. Will 19.5's fit my trailer?
Click the video link (question) above for a brief video helping with this.
3. I have a trailer with 6 lug hubs and rims. What are my options?
On trailers with 6 lug hub design we offer the 6-Lug Rancher Steel wheel in either Satin Black or Liquid Silver. This will replace the wheels and tires on trailers that came stock with 235/80R16.
If your trailer came with 225/75R15 and the 6-Lug pattern wheel, this upgrade may not work. The 225/75R15 is a 28" outer diameter tire and the 225/70R19.5 is a 32" outer diameter tire. This means you will loose 2" of clearance above and in front and back of the tire near the fendors and 4" between the tires.
If you would like to upgrade your exisiting axles to the 8 on 6.5" hubs, you can visit www.tktrailerparts.com or call them at 833-300-0433 for assistance with this.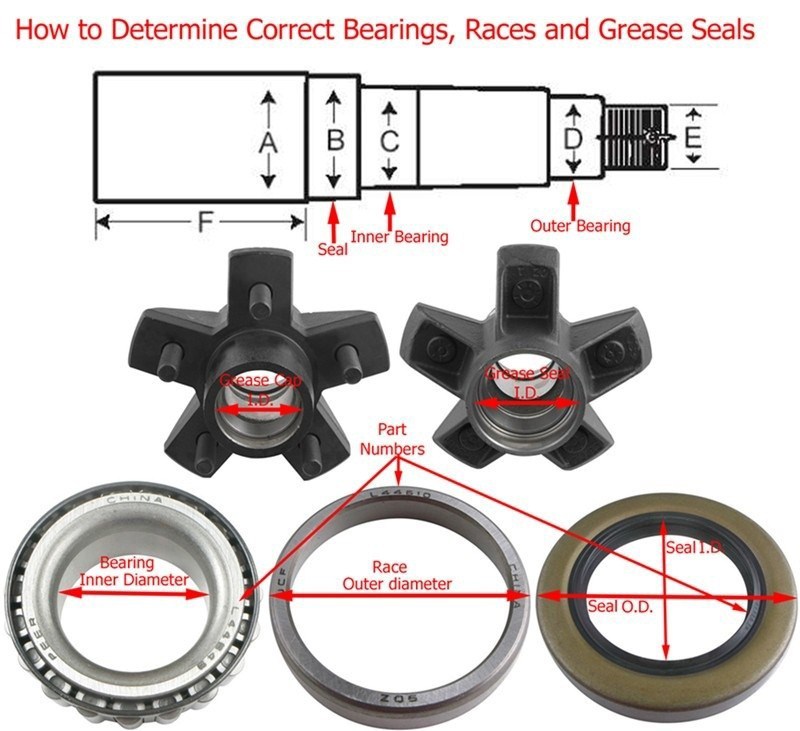 4. I have 225/75R15s on my trailer. Do you have anything that will work for my trailer?
In 2019 we started selling the Road One 225/75R15 LRG (14PR) all-steel tire with a 3,500/LBS weight capacity and 75/MPH speed rating. Unfortunately, due to production limitations this tire is currently not available. As soon as it is we will be releasing a 3,500/lbs rated 15" wheel to accommodate it for both a 6 on 5.5" and 5 on 4.5" hub configuration. (Updated 3.19.2020)
5. What is the maximum air pressure I can run in the 225/70R19.5?
In a Load Range J, the maximum psi is 125.

In a Load Range G, the maximum psi is 110.

In a Load Range F, the maximum psi is 95.

6. What is the maximum load I can run on the 225/70R19.5?
3,640 lbs. is the maximum load at 95 psi for a Load Range F.

3,970 lbs. is the maximum load at 110 psi for a Load Range G.

6,005 lbs. is the maximum load at 125 psi for a Load Range J.

7. Do you offer dual wheels?
Yes. The Hooper Dual is a 19.5"x6.75" dual application rim.

8. Do you offer an aluminum alloy wheel?
Yes, we offer the Cruiser Aluminum line. The Cruiser 67 is available in either a lug centric design for 1/2" & 9/16" studs or a hub centric design for 5/8" lug studs and a 6,050/lbs. weight rating. The Muret 75 is available in the hub centric design for 5/8" studs only and a 6,400/lbs. weight rating.

9. Will I be able to find replacement tires easily?
Yes. The 225/70R19.5 is in the top 5 commercial tires sold in North America. They are on many pick up and delivery vehicles (FedEx, UPS, USPS, etc.) and are on tens of thousands medium-duty trucks (F450, F550, 4400 & 5500 models and the like). Because of this, replacement tires are readily available through most tire dealers and online. You can also find high tread used tires in most areas.

10. What about 17.5s?
We actually offer a 17.5" rim, the 17.5" Cruiser 67 design. You can order this for 1/2", 9/16", or 5/8" lug studs.
When do 17.5's make sense? Typically we only recommend 17.5s when the trailer has very limited clearance. An example might be a deck over flatbed. The 215/75R17.5 is a 30.4" outer diameter and the 245/70R19.5 is a 31.6" outer diameter. For tight clearances, this is a great upgrade.
However, below are the three main reasons why 17.5" tire/wheel combos may not be right on your trailer:
Limited availability: 
Since 17.5" tires are not widely used as Original Equipment outside the trailer world, it can be more difficult to find a replacement tire while out on the road.
Different Testing Requirements: 17.5" tires and smaller have a different required test standard than larger commercial tires. According to the to the NHTSA, the test standard for inch pounds of breaking strength for a 17.5" tire or smaller is 6,300/in.lbs. with a 3/4" plunger. For 19.5 and larger commercial tires that goes up to 15,000/in.lbs. with a 1.25" plunger. The construction standard is not equivalent to the larger rim diameter commercial tires.
Application
: 17.5s are a trailer specific design. They are not designed to be used on trucks, and most newer trucks could not accommodate a 17.5" if you wanted to run the same size on your truck and trailer. Only 19.5s will fit most modern trucks that come stock with 18" or larger rims.
11. What is the best air pressure to run in my new Boar Wheel conversion?
The correct air pressure is based on the maximum load carried on the trailer. You should run the pressure that corresponds to your heaviest load at all times, never reduce the pressure for lighter loads. The chart below can assist in determining the correct air pressure.